Shutters.
Euroguard shutters. For use on commercial vehicles: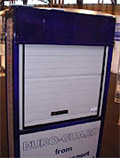 Built to your requirements, we offer a design and build service for
your specific needs. We produce quality shutters at a competitive
price to you the customer.
Euroguard shutter types we offer are:
Roller shutter
Overhead shutter
Roof type shutter
Double Skin Lath Available
For more information on Euroguard shutters please click here
---
Curved Lath shutters. For use on premises:

Ideal for larger openings where security and protection against vandalism are principle considerations.
The basic finish is galvanised steel, but for improved appearance
and to comply with local authority requirements the curved lath shutter can be powder coated. An extensive range of colours are available.
For more information on Curved Lath shutters please click here
---